An evening of literature with Daryl Li, examining the idea of failure through a personal history of creativity, embarrassment, and rejection.
original description
This December, I'd like to invite you to join me in a small and cosy literary event at Puck Provisions called Failure Machine.
Failure Machine examines the discourse of failure by diving into my history of creative failure, personal anecdotes, and a litany of rejections, woven together with conversation and interaction. We'll work our way through things I've written or experienced. We'll talk to each other, with each other. We'll think through the totalising effect that the discourse of success and failure has on our lives. Expect mundane tales of embarrassment, useless creative experiments, and sad tales for sad kids. And maybe through all this madness, we can find the space to grow tenderness in our lives.
Failure Machine will happen at Puck Provisions (618 Serangoon Rd, #01-01, Singapore 218220) on 9 and 16 December (Friday) at 8pm. (Both dates are the same, so come for the one that works better for you!) The event is free but please register in the Google form just so we have an idea of who's coming and the space isn't overwhelmed. Thank you! – Daryl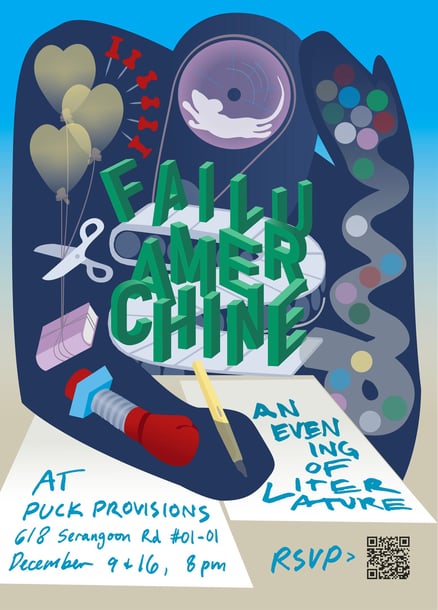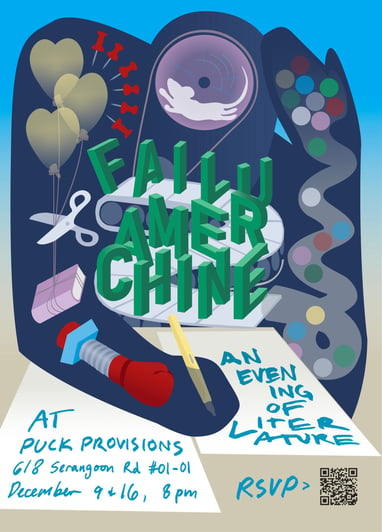 The spirit of the essay is to try, and there is a kind of humility in knowing that there is never an end, never a monumental finality to this process. To me we fail constantly, but the failures are a kind of detritus, the disjecta of our subjectivity, and perhaps in this we can thrive.
Failure Machine, was held on 9 and 16 December at Puck Provisions, taking participants through a brief history of failure. Conceived as a type of "performed essay", the piece was presented through slides, conversations, and a small exhibition of personal artifacts.
To always fail to find pronouncements. To imbue the attempts with complexity, fascination, poetry—it is in some ways thrilling.
Through it all, we thought through the discourse of failure and success, and all its cruelties and absurdities, in search of more human ways of meaning and the voice to speak again.
The essay is a darkness from which we advance ever closer to the possibility of expression.
What was therefore so beautiful about this event was how this room was teeming with life and energy – a mandala of friends and faces brought together to ponder the idea of failure, to hear out Daryl's unshapen literary creations and chime in with their own, even support opening up café spaces till late or distributing printed handouts to the audience. Doubtlessly, during the main body of the event, everyone listening had something on their mind, slotting in analogous experiences of their own as he narrated his own stories – whether biographical or literary.
Daryl Li
design by
Maddison Colvin
logistics and photo assistance
Casidhe Ng
Matt Reeder
Nicholas Cheng
Yang Yang
a lot of thanks and love to
Puck Provisions